Safe Power Washing by Shingle Brite-Springfield MO
Shingle Brite will safely power wash the outside of your Springfield MO area home, business, shopping center, apartment complex, church, shopping mall or retail location to eradicate all the algae, spider webs, insect droppings and dirt that is robbing the natural beauty of your home. We will clean all types of siding using our professional equipment that allows us to reach up to 4 stories high to apply our cleaning solutions. These solutions go to work and then we thoroughly rinse the dirt and grime away. Our process is much safer and more effective than the outdated, high pressure cleaning most people are aware of. We don't just use brute force to clean your home like the old days!
Shingle Brite uses a process that avoids the issues that normally come as a result of standard high-pressure cleaning, leaving you head-ache free and without any damage.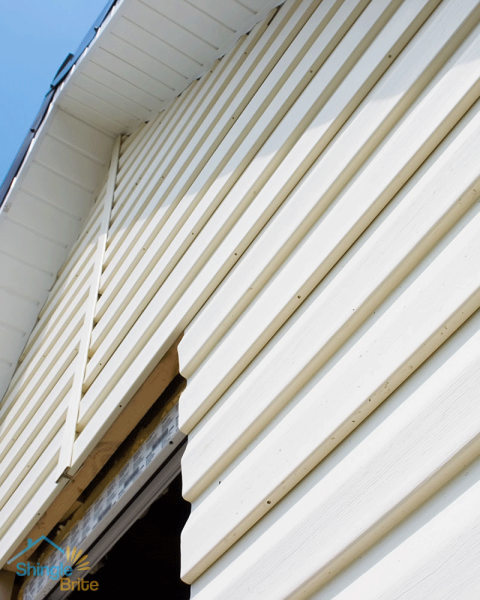 While we call it "Siding Cleaning", it's much more than that. We clean the outside of your gutters and downspouts as well as the fascia, soffits, porch ceilings where feasible, porch railings, window frames, garage doors and pretty much anything else that is obviously part of the structure except for the shingles and decks. The windows are rinsed clean, but can be spotted depending on your water quality. Pure water exterior window cleaning is an extra service we offer.
"Siding" can be almost any material such as vinyl, metal, painted wood, cedar shakes, concrete, stucco, EIFS and brick. Often on an all-brick home or building, we offer a very affordable Gutter, Fascia, and Soffit cleaning where we power wash all parts mentioned above and not the brick as it rarely shows much dirt.
We get asked a lot how often siding should be power washed. Typically, if done every 12 months it will always look awesome, every 18 months it will be starting to show signs of needing it, and every 24 months it's pretty obvious it's time. If your home or business hasn't been cleaned in many years or never, don't worry. We can make it look awesome, too!
Call, text, email or use the link here on our website to get your free quote today!