Concrete Cleaning by Shingle Brite-Springfield MO area
You hate the way it looks, but spending all weekend on concrete cleaning is not exactly your idea of fun! Who would? Cleaning 1″ strips at a time gets old and fast! It quickly becomes a daunting task for even the most eager homeowner. Your driveway or pool deck may not seem all that big when you start, but somehow it keeps getting bigger and bigger and bigger until you can't possibly imagine how you could have ever wanted to pressure wash it. Many of our concrete cleaning clients have attempted it on their own then decided never again!
Let us do it for you. Shingle Brite's professional-grade surface cleaners allow us to efficiently and safely do your concrete cleaning without leaving zebra striping or the marks left behind from wand cleaning. We provide uniform and consistent concrete cleaning.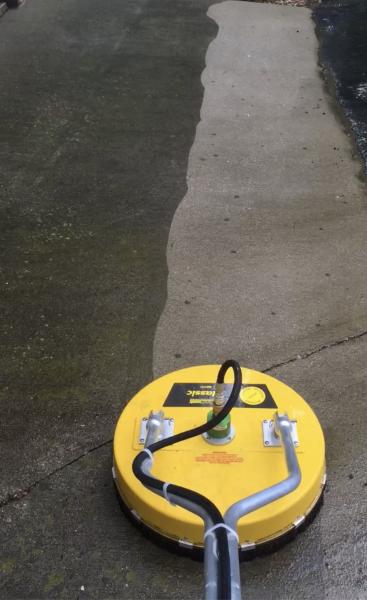 Our concrete cleaning equipment cleans differently than residential pressure washers and wands. For one, we use much bigger machines. Most people assume a machine with more pressure will clean better and faster than one with less pressure, but this is not really true. Water volume is much more important than just pressure and our machines have 3-6 times more gallons per minute (GPM) than typical pressure washers and usually are lower pressure. Secondly, we connect these machines to our professional grade surface cleaners versus using just a wand. This eliminates the inconsistent results achieved by swinging the wand back and forth, which raises and lowers the high-pressure water from the surface causing some areas to be clean, but others not so much.
Don't waste your weekend on concrete cleaning! Call, text, email or use the link here on our website to get your free quote today!