Christmas Lights Professional Installation
Christmas Lights Professional Installation by Shingle Brite-Springfield MO Area
Our Christmas lights professional installation program for the Springfield MO area is the best way to enjoy the holidays. Our customers love our program as evidenced by our over 95% renewal rate! We offer a short-term lease program renewable each year at the same (or lower price) with continuous service. We own, custom fit, maintain, remove and store everything needed. We custom fit our lights to the area(s) and color(s) of your choice. We provide the socket cord, bulbs, jumper wires (so you don't have lights where you shouldn't), plugs, extension cords, clips, and smart or mechanical timers.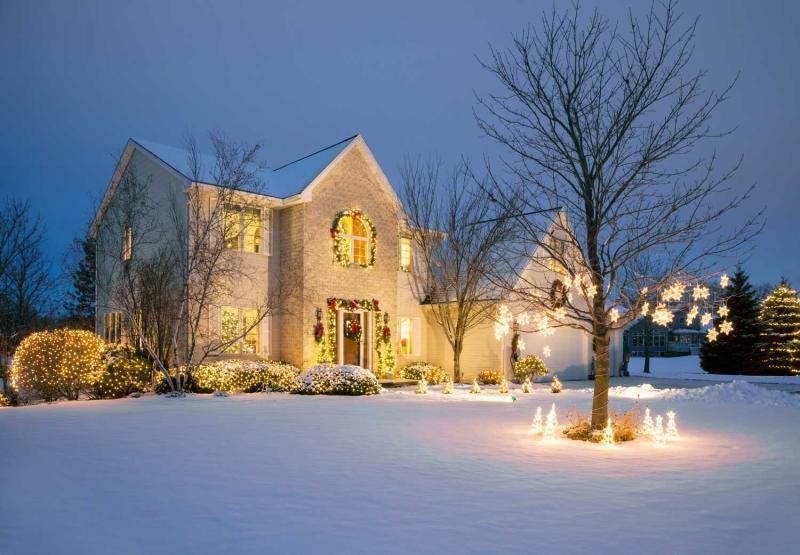 In the middle of October, we start doing our early Christmas lights professional installations. Some people want them up as early as possible and some want to wait until well after Thanksgiving. This works great for us! By about December 10th, we finish the late reinstalls and the late newcomers. December 26th, we start taking them down. Some want them down as soon as possible and some want to wait until mid-January. Again, this works great for us! We label the lights so we can get them back up the same next year, store them in totes and take them to our storage facility until next year.
We typically light the "lower roofline" of your home as well as any trees or bushes you want. We are more than happy to help you decide where and what colors to use. Of course, we want you to be happy with what you have chosen and will do whatever you want, but we lean towards "less is more." Simple and tasteful is what we recommend but we can go all Griswald if you want us to!
Our products are the best available and all are LED, so your electric bill is minimal. There is zero heat generated so they are nice and safe, too. If you are tech-savy, our smart plugs let you control everything from your phone so you can set timers and turn them on and off at will from anywhere. Our mechanical timers will be set to come on at dusk and run for 8 hours when we leave, but you can set them for dusk to dawn, 6 hours, etc.
These products are very reliable but nothing is perfect, so during the season, we will drive around the neighborhoods to look for any issues with our lights and take care of them on the spot if possible and ASAP if not. We also respond to texts, emails and phone calls if we haven't already caught the issue. These neighborhoods include, but not are limited to, Fremont Hills, Millwood, Millwood Parke, Olde World, Highland Springs, Villages of Wicklow, Fair Haven, Kali Springs, Irish Hills Estates, and many more. Chances are, if you have driven through these neighborhoods during the holidays you were admiring one of over 200 homes we do!
We offer the following colors in any combination:
Warm white (like the older car headlight style-very traditional)
Cool white (like the newer headlight style-more modern and very bright)
Not only is our Christmas lights professional installation program super easy for you, if you stay with the same colors, you never get a price increase!
We give free quotes year round, so don't wait until the last minute or it may be too late!
Call, text, email or use the link here on our website to get your free quote today!