Quality Deck Staining by Shingle Brite-Springfield MO area
Shingle Brite offers quality deck staining as well as fence staining in the Springfield MO area. Staining decks and fences not only brings out the natural beauty of the wood, but is a crucial part of the maintenance for longevity. Neglecting a deck or fence can lead to costly early replacement, plus it just looks bad!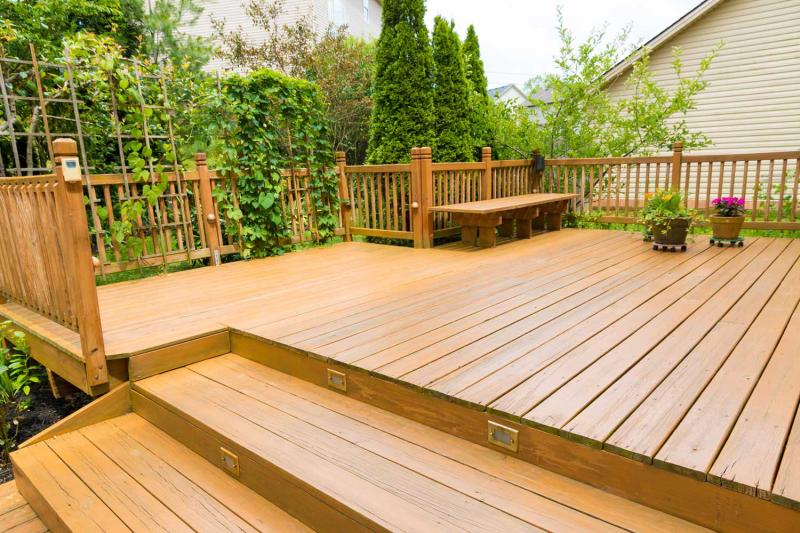 We start by giving the wood a thorough cleaning to remove old stains, weathering, algae, lichen, dirt, etc. This will restore the appearance and sometimes is all that is wanted and we are okay with that! We return when the wood is dry to apply a very high quality, oil-based, penetrating stain. Our product of choice is Baker's Gray-Away in either the Honey Brown or Special Blend formulation. These stains provide excellent protection, hide blemishes and old stains well and do not show lap marks, brush marks or drips. This means you get a great-looking product that lasts for years! Honey Brown is the choice if a brown look (no red) is desired and Special Blend is the choice if a red look (slight, not overbearing) is desired. Other colors of Baker's and other types of stains are available as a special order, so be sure to ask. One option is a high-quality, water-based solid stain in virtually any color desired. This can allow a perfect match or compliment to your home or business and is a great option for decks and fences that were neglected for many years. These stains cover completely as paint does, but still allow the appearance of grain.
We advise waiting for several months before a new fence or deck staining to allow the wood to thoroughly dry out, especially treated wood as staining too soon can result in it being "kicked off" as the wood dries out. However, you can contact us now to lock in your quote at today's prices and get on the schedule for the right time!
Want to stain it yourself? We can prepare it for you and let you do the rest! We can even provide some guidance on products to use, colors and how to do it.
We also offer fence cleaning of all types from wood to pipe to vinyl. We have the ability to clean any fence even well away from a water source, which is common on many larger properties.
Call, text, email or use the link here on our website to get your free quote today!